Why Business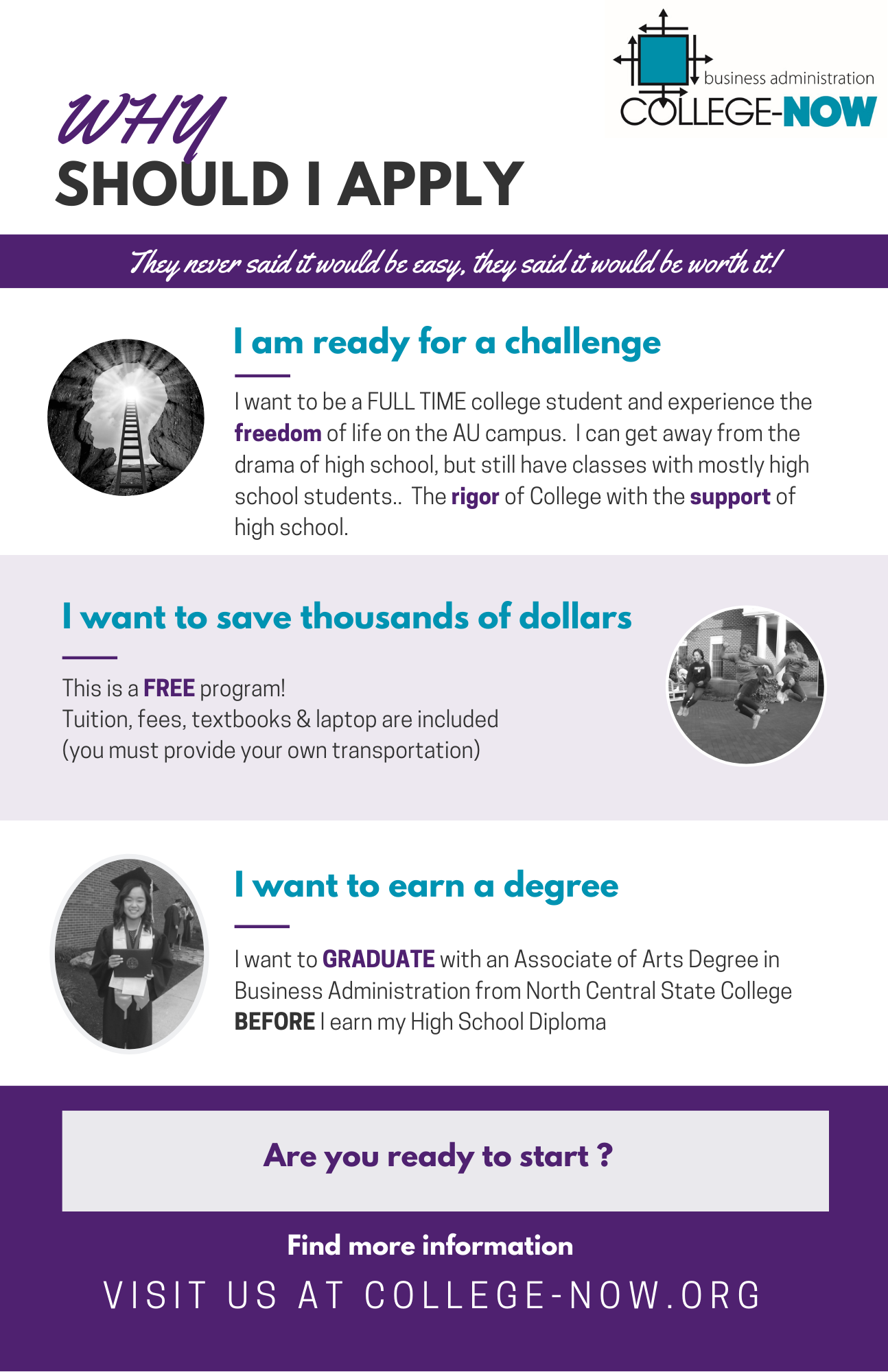 College-NOW Business Administration is a two-year program that allows high school juniors to enter North Central State College and/or Ashland University and the career center on a track to receive an associate's degree in conjunction with their high school diploma.
This unique combination is designed to provide students with both the useful skills that come from a liberal arts education, such as critical thinking and communication skills, as well as a solid foundation in business principles. This associate degree in business can prepare students with the necessary business knowledge and communication skills they need to move forward, whether that is pursuing a higher degree or moving on to a career in business. Promoting a fun atmosphere while providing academic rigor.
The Best of Both Worlds
That's great news for prospective students. You can get the first two years of your basic studies finished while:
still in high school
staying involved in sports and extra curricular actives
living at home
keeping your part-time job
saving thousands of dollars
Click on this link to see the latest Graduation Statistics!!
---
Program at the Kehoe Campus in Shelby.
---
Program at the Ashland University Campus.
Ashland Recruitment Video 2021
---
Demographic Profile
Class of 2024 Kehoe / Ashland
Females = 12 / 7
Males = 16 /10
Class of 2023 Kehoe / Ashland
Females = 15 / 5
Males = 13 / 3
Class of 2022 Kehoe / Ashland
Females = 9 / 1
Males = 14 / 7
Class of 2021 Kehoe / Ashland
Females = 18 / 0
Males = 5 / 2
Class of 2020 Kehoe / Ashland
Females = 13 / 6
Males = 7 / 4
---
Geographic Profile
Class of 2024
Ashland, Col. Crawford, Crestview, Galion, Hillsdale, Lexington, Loudonville, Lucas, Madison, Northmor, Ontario, Willard
Class of 2023
Ashland, Clearfork, Galion, Hillsdale, Home School, Lexington, Lucas, Northmor, Ontario, Plymouth, Shelby, Willard, Wynford
Class of 2022
Ashland, Buckeye Central, Colonel Crawford, Hillsdale, Lexington, Lucas, Ontario, Shelby, Willard, Wynford
Class of 2021
Galion, Hillsdale, Lexington, Lucas, Northmor, Ontario, Plymouth, Shelby, West Homes
Class of 2020
Ashland, Crestview, Colonel Crawford, Galion, Hillsdale, Lucas, Madison, Northmor, Ontario, Shelby, Wynford